Pole Barn Cabin and 5 Acres Near Lake Sundown NEW IMPROVEMENTS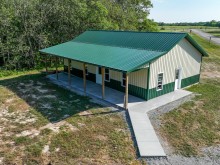 15818 Walnut Grove Drive
Moravia, IA 52571

Status:
Active
Listing #:
SL5-13 except lot 1 of 13
$175,000
Description
This Iowa acreage at Sundown Lake for sale offers over 5 acres of woods with several improvements. The owners have added rough plumbing , concrete floor and covered concrete deck under the covered porch. Other improvements include a 28' by 45' pole building, driveway, electric, rural water and septic system in place. This is a active construction project so keep checking back on progress.
This shed home or cabin on the property is a shell that could easily be finished into a charming one or two bedroom cabin. This would be the perfect project for someone that doesn't want to build from scratch. Plenty of acreage and opportunity for a detached shed or garage. Enjoy one of the most peaceful wooded settings you will find with several miles of country roads to walk and explore. This property includes access to Sundown Lake only a short distance from the property. Great fishing, boating, and other water related activities await you.
This property is less than one mile from Sundown Lake a private lake meaning that only owners and their guests have access to the lake and private roads. This is a very secure and secluded location. Whether you are looking for a vacation property or full-time place to build and live, this property has much to offer. The acreage is located within a 15 minute drive to Centerville, Iowa and less than 15 miles from Lake Rathbun.
Details
Status:

Active


Listing #: SL5-13 except lot 1 of 13
Price: $175,000
Acres: 5.186
Water Frontage: None
GPS Coordinates: 40°48'55.5"N 92°43'35.0"W
Map: Click Here
Features:

28' by 45' Pole Barn plus covered porch
Septic System Installed
Water
Electric
Driveway
MENU
LAKE SUNDOWN
FOLLOW US
ABOUT US
LATEST FROM OUR BLOG
BUYERS AND SELLERS