Posted by Jason Kok | August 12, 2015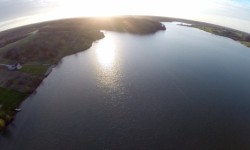 Sundown Lake is a private lake community that was established as a HOA development by Secluded Land Company LLC in 2005. There are a total of ten phases to the development.  Each phase 1-10 started with phase 1 represents a surveyed area of the roughly 2400 acres of land that surrounds Sundown Lake.  There is a total of 350 lots in the 10 phases of development which makes this one of quietest private lakes in the midwest.
Sundown Lake has three unique types of property.  One is lakefront which allows a property owner to own their own shoreline and put in a private dock.  The second is lake view acreage these properties give you obstructed to unobstructed views of the lake and sit behind the lakefront owners.  The views from these properties vary with acreages generally in the 2-15 acre range.  The third property type at Sundown Lake is an acreage lot with deeded rights to the lake.  These properties are very unique when comparing other private lakes in Iowa because of their size and activity potential.  Several of these acreages are over ten acres in size and give the owner ample space to hunt, hike, explore while still having access to a large 400 acre all-sports lake.
An Additional feature for Sundown Lake property owners that don't have frontage or the ability to put in their own dock are marina style docking system.  These systems are available when buying from the developer or can also be purchased with  re-sale listing.  The cost of the boat slip is a one-time fee of $5,000 and currently has a yearly maintenance fee of $75.  These slips have  4 different convenient locations on the lake. Most Sundown Lake owners prefer an area closest to their respective lot if available.  These slips are located on Common (park) frontage so they are not obtruding on lake front properties.  This was a unique and very popular option that Secluded Land Company created in their master plan of developing Sundown Lake.
There is a strong sense of community and membership with this lake.  The private lake aspect is somewhat unique in the midwest.  To think that only 350 members and their families have access to this jewel of a lake is remarkable in my opinion.  There are activities for every season at Sundown Lake. Winter ice fishing and skating, spring fishing, and boating, Summer nights and fall camp fires.  Enjoy the ability to hunt your own property, fish and boat in the private lake waters.  This truly is a special place.