Posted by Jason Kok | November 1, 2013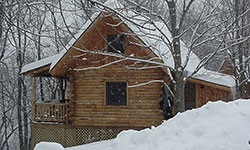 This time of year is always a bit sad with the cold weather on the way. The hot, sunny days that are perfect for a weekend at the lake become a memory or are somewhere in the distant future. If your lake home is primarily used as a summer vacation getaway there are a few things you will want to do to keep it clean and protected during the winter.
Remove all food – Don't leave for the winter with food left in the refrigerator or the cupboards. No matter how well it is packaged, food that sits in an empty house will attract bugs and hungry rodents. If you plan to leave your refrigerator on you will still want to empty its contents in case of a power outage or malfunction.
Turn off the water – In order to avoid the hassle of cracked or broken pipes you will want to turn the water off where it comes into the house. It is also important to empty the water lines in the house by running the faucets until no additional water is coming out of them. Home owners who will be gone for extended periods or live in particularly cold areas may also want to drain their water heater and toilets.
Turn down the thermostat – You will want to turn your thermostat as low as it will go but high enough to keep the temperature in your home above freezing. This simple practice will help avoid frozen pipes, drains, or other damage that can be done in low temperatures.
Unplug appliances – Some people opt to completely turn the electricity off to their lake home during the winter. If you have an electric furnace and want to leave it running this is not an option for you. Avoid electrical fires or problems instead by unplugging all of your appliances. This includes the refrigerator, microwave, computers, oven, etc.
Turn off gas – Again if you have a gas furnace and want to leave it running this step would not apply. If not, you can avoid gas leaks or reduce gas costs by turning off the gas that runs your water heater or other appliances.
Remove boats – If you are one of the many people with a boat on the lake you will not only want to prepare your home for the winter but your water toys as well. It is important to remove your boat from the water even if it is on a lift. Severe weather and cold temperatures can damage the engine as well as the exterior of your boat. You will want to have your boat winterized and either covered or put into storage for the winter.
By following these simple steps for getting your lake home ready for the winter you can make the start of next summer much more enjoyable. Wouldn't you much rather start off the season enjoying your home and the summer weather than cleaning or making repairs that could have been avoided?