Posted by Jason Kok | February 24, 2014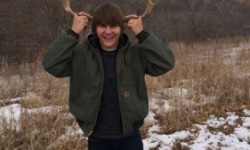 On Saturday February 22nd I was showing property to David Stifel and his son Jack.  Earlier in the day I had mentioned that conditions were good for us to find some horns so we were on the look out.  Low and behold on our last stretch of bedding area per Dave's suggestion we were able to score Jack this matching set of antlers.  A great story and day for the Stifel family while walking ground with me at Sundown Lake.
Adult male members of the deer family naturally shed their antlers each year after the breeding season when testosterone levels drop, only to grow a new, usually larger, set of antlers beginning in the spring. As more hunters take up interest in actively managing their land for deer, and more people decorate their homes and cabins with antler chandeliers and other antler crafts, the demand for antlers – and the desire to find them – increases.
Keep your eyes open in the woods you may stumble on one of these prized sets of antlers.  It is not uncommon to find the other side of the set within close proximity to your first horn find.  I will warn up front that not every trip is a fruitful venture but many people get hooked after their first success in the woods.