Posted by Jason Kok | December 12, 2013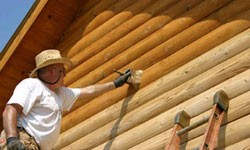 Log cabins and homes are a popular building choice among those who live in wooded areas, or along streams, rivers, and lakes. Their rustic look and outdoorsy feel make them a perfect addition to the atmosphere of these locations. While a log home can be extremely attractive and a source of envy for some, many people tend to shy away from building them because of the maintenance they require.
It is true that most log cabins do require a bit more regular upkeep than your standard stick built house with vinyl siding. After all, wood is a living thing and left to the elements it will wear out over time. However, for those that have always dreamed of living in a log home the perks tend to outweigh the maintenance that is involved, as long as it is done properly and on a regular basis.
Keeping on top of the care of a log cabin will make each year easier. If long periods of time are allowed to pass between repairs, these types of homes start looking worn, cheap, and unattractive. The time and energy it takes to restore log cabin homes after years without maintenance is much more extensive and after too long the home could even be beyond repair.
For those that are hesitant about building a log home because they are scared of the time involved in maintenance, there are actually only a few things that need to be done annually or once every other year to keep your home preserved and protected.
• Once or even twice a year you should take a walk around your log home and inspect it from every angle. Look for cracks in the logs, places where water might be splashing or leaking into the logs, or if there is any evidence of insect damage.
• Your log home should be washed on a yearly basis. As long as there is no evidence of water damage, rotting, or graying wood, a simple power washing of your log home should suffice. Washing will also remove dust, pollen, insect webs and skeletons, and bird droppings.
• Stain and/or seal the wood at least every other year. If you do not see any significant discoloration or rotting you can do this less often but don't let it go too long. Before staining you can also apply a borate wood preservative to help prevent rot.
• If you notice any cracks they should immediately be filled in with caulking or chinking. Larger cracks may require a backer rod before filling with caulk. You should also caulk around windows, vents, or other areas where the wood has been cut.
If these four simple steps are used on a regular basis, owners of log cabins can save a lot of time, headaches, and money when it comes to maintaining the look of their beautiful, unique home.