Posted by Jason Kok | August 14, 2012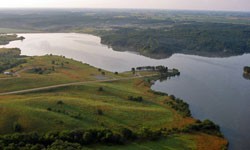 Iowa is very limited with the amount of lakes that are available that you can build on the waterfront.  Many of the lakes in Iowa are man-made structures that were built for flood control.  The Army Corps of Engineers controls many of the bigger lakes in Iowa including Saylorville, Coralville, Rathbun, and Red Rock.  These are some of the largest lakes that the state has to offer and all have there own beauty and scenery to them.  They offer the state a public venue to enjoy boating, fishing, swimming, and other water activities.  Many customers that call us on lake property don't realize that you can't build on any of these lakes making it even more difficult for customers to find the right lakefront setting in Iowa.
Private lakes are a rare find in much of the Midwest but are unique to Missouri and especially Iowa. Lake ownership on a private lake can be very rewarding.  It allows the owners and or developer the opportunity to set the scope or standard that the lake is to uphold.  A strong lake is only as good as the owners that surround. If you are looking for a private lake property to purchase in Iowa make sure that you have a firm knowledge of the owners assocaiton dues and what covenants are in place before purchasing property.  Many good land investments have gone bad in a hurry without an understanding on what is required.  Also get a knowledge of fishing rules or boating regulations on the lake.
Most of the private lakes in Iowa have at least one owner per half acre of water.  Many have even a higher density than that.  Sundown Lake offers owners a little over an acre of water per owner making it one of the quietest lakes in the state.  Many weekdays you can be the only boat on the lake for much of the day.  When shopping for a lake lot or lake property be sure to ask your agent how many property owners have access to the lake?  I wish you all luck in finding the lake that fits in with your family goals.  Fishing, boating, and swimming are all important components to most lake buyers purchase.  We are able to help you with throughout the lake buying process and answer all the questions that you may have.